Crispy fried onion flakes are not only a dish, but also an important seasoning. Fried onion flakes can be widely used in many dishes around the world, from snacks to salads, soups, baked potatoes, mashed potatoes, rice dishes and more. Additionally, it is used as a topping for sandwiches, hot dogs, and hamburgers. In each country, the fried onion flakes are used in their own specific way.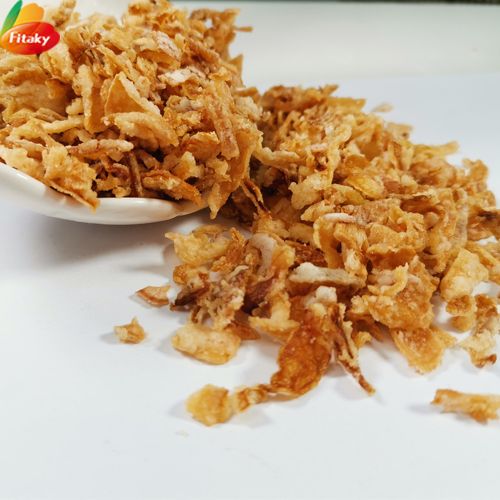 Free smaples & support customization & Halal certification
Advantages of fitakyfood.com Fried Onion Flakes
1. Fried onion flakes have passed ISO9001, HACCP, HALAL, BRC, FDA, ORGANIC and other product certifications, and the quality is safe and reliable.
2. The factory uses modern production technology and management system to ensure the taste and quality of fried onion flakes, and supports the provision of free samples for customers to test products.
3. The factory supports customized packaging of fried onion slices and the size of onion slices to meet the diverse needs of customers.
4. Fitakyfood.com has more than ten years of product export experience, guarantees fast delivery, and can assist in customs clearance.
Friends who are interested in the fried onion flakes, dehydrated onion slices, organic onion powder, freeze dried onion granules, etc are welcome to consult at any time.
Packing of the fried onion flakes
1) 20kg carton with double PE bags inside
2) 1kg/20kg/25kg/ papper bag
3) According to Clients' Requirement
Load of the fried onion flakes
If packing in 20kg/carton, one 20ft container can load 12 mts, one 40ft container can load 20 mts