Dehydrated onion flakes not only have a pure and strong onion taste, but also have a long shelf life, and can be widely used in various food processing and dishes. In addition, we also have onion powder, fried onion crisps, and the dehydrated onion dices, etc. Export quality, free samples are available.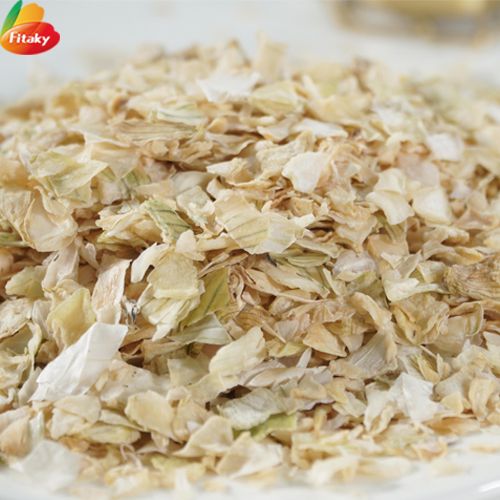 More information about the dried onion flakes
1. Top quality, non-GMO, no food additives and preservatives.
2. Certified organic, halal, kosher, Brc and more.
3. Provide free samples & Customized packaging, customized products, support OEM, etc.
4. Fitakyfood.com has its own dehydrated onions planting base to ensure compliance with the pesticide and heavy metal residue standards of the European Union, Canada, the United States, and Japan.
5. 100% factory price & fast delivery
6. Factory testing laboratory + third-party testing laboratory to ensure the quality of the dehydrated onions.
7. Advanced production equipment and fully automatic closed modern production line ensure the hygienic production of dehydrated onion flakes.
So far, our dehydrated onion flakes have been exported to more than 100 countries including Malaysia, Singapore, South Korea, Indonesia, Brazil, Japan, the United States and have been well received.
Interested friends are welcome to consult at any time.