Pure celery powder, as a green superfood, is rich in various nutrients, low in calories, and is a food with high antioxidant activity. In recent years, natural and organic celery powder has become more and more popular among health-conscious consumers.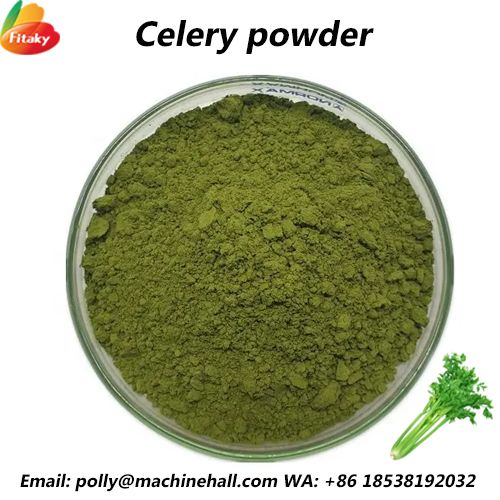 Not only can celery leaf powder be used in a variety of dishes, from soups and stews to meats and snacks, but it also has a strong presence in baking and confectionary, beverages and smoothies, supplements, convenience/ready meals, and more. Plus, celery powder is a natural, healthy alternative to artificial flavors and preservatives.
Details about the pure celery powder
1. The pure celery juice powder has passed organic, non-GMO, kosher, halal and other food certifications, vegan, gluten-free.
2. Celery is a good source of antioxidants, vitamins, and minerals.
3. Celery powder is a popular ingredient in natural and organic foods.
4. For the product test, we can provide the free vegetable powder samples.
5. We are the celery powder manufacturer, 100% factory price. And support customization.
Friends who are interested in various green superfood powders (parsley power, kale powder, broccoli powder, barley grass powder, etc. ) are welcome to consult at any time, 24 hours online service.