Cilantro powder is the ground, dried form of cilantro leaves and is often used as a culinary seasoning to add citrus and herbaceous flavors to dishes.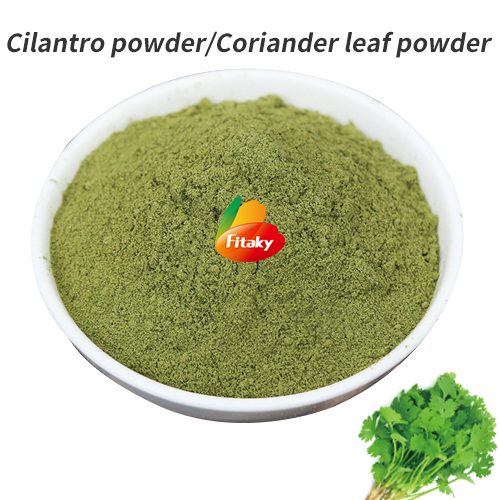 Cilantro leaf powder helps aid digestion, reduces inflammation, lowers cholesterol levels and provides antioxidant properties. Additionally, ground coriander may help freshen breath and promote healthy skin.
Fitakyfood.com supports customizing the packaging and labeling of organic cilantro powder for sale and also supports providing free samples for customers to use for food production testing, adding fresh citrus flavor to food. Ground cilantro can be used as a seasoning in soups, stews, and curries, and as a side dish for salads, salsas, and guacamole. Ground coriander is also used in marinades, scrubs, and spice blends for meat, poultry, and fish dishes.
More information about the cilantro powder
1. The factory supports customization and OEM services. At the same time, free samples for testing product quality are also available.
2. Cilantro powder has passed Halal, Organic, FDA, Brc, Kosher etc.
3. Direct supply from manufacturers with more than 10 years of production experience, no middlemen, the lowest price!
4. Fitaky has a mature logistics system to ensure safe and fast delivery of products.
As a professional vegetable powder manufacturer, we also have more than 60 vegetable powders such as celery powder, cabbage powder, chive powder, etc. Please feel free to consult Polly.