Seafood is a major feature of Japanese ramen, so when we developed Japanese ramen vegetable sachets, we specially selected dehydrated squid slices and dehydrated crab sticks as a highlight of our Japanese ramen vegetable buns, providing a rich flavor to your ramen. of seafood flavor.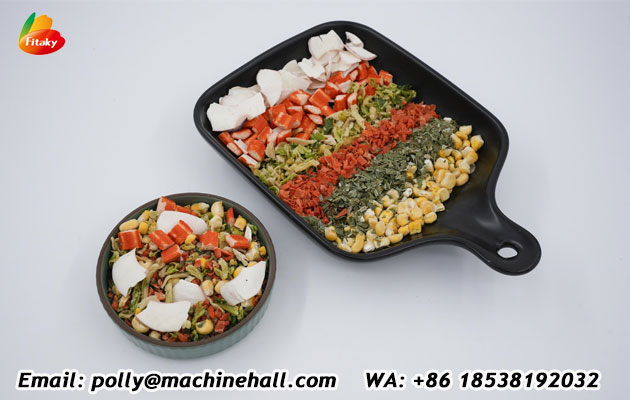 Fitakyfood's classic seafood flavor ramen ingredients mainly include dehydrated cabbage, egg dices, dehydrated green onions, dehydrated carrot dices, dehydrated squid slices, dehydrated crab sticks, etc. At the same time, we also have dehydrated onions, green vegetables, pepper rings, freeze-dried corn kernels, dried mushrooms, dehydrated pickles, celery, parsley, broccoli, soy products, wolfberries, sesame seeds, peanuts and other products to choose from. Custom-made unique ramen vegetable sachets.
Currently, fitakyfood can customize the types of vegetable sachets for customers:
① 60-70g instant noodles: 1.5-3g vegetable sachets
② 110-120g instant noodles : 3-5g vegetable sachets
③Customized packaging: 500g-more
Services provided by Fitakyfood.com:
① Provide free samples of ramen vegetable sachets
②Customize unique ramen vegetable sachets according to customer needs
③We have more than ten years of experience in the production of dehydrated vegetable bags, which can provide stable long-term supply and ensure satisfactory delivery!
④Direct supply from the factory, the most competitive price, you can visit the factory at any time!
As a professional manufacturer of ramen vegetable vegetable sachets, we also produce Korean ramen vegetable sachets, Thai ramen vegetable sachets, Chinese ramen vegetable sachets, etc. Welcome to consult at any time!