Crispy fried garlic is made by frying fresh garlic granules wrapped in starch. The crispy fried garlic is less spicy of garlic, and the aroma of garlic is increased after frying, which can stimulate appetite. Fried garlic crisps can be used for noodles, mixed with blanched vegetables or cooked in soup. It is a very versatile seasoning.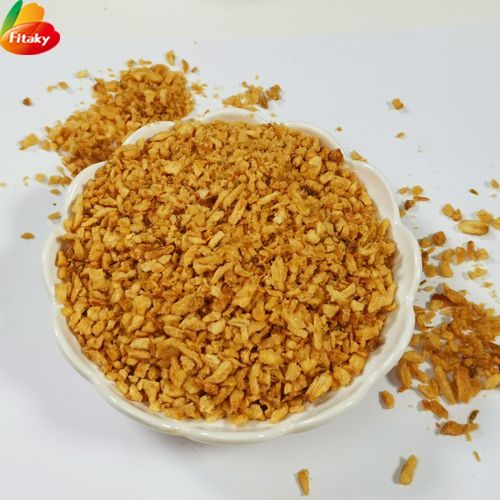 Crispy fried garlic is a commonly used seasoning in Taiwan and Southeast Asia. Fitakyfood.com, as a professional crispy fried garlic manufacturer, we can meet customized requirements, like crispy fried garlic specifications, packaging, etc. In addition, our crispy fried garlic products have complete certification, such as ISO9001,HACCP,HALAL,BRC,FDA,ORGANIC, etc.
At present, our fried garlic products mainly include fried garlic crisps, fried garlic granules, fried garlic flakes, dehydrated garlic slices, roasted garlic granules, garlic powder, etc. Sufficient and stable supply.
Friends who are interested in the price of fried garlic crisps are welcome to consult at any time.