Dehydrated garlic flakes are neat in shape, light yellow in color, pure in taste, 1-2mm in thickness, and can be eaten or used as food raw materials or auxiliary materials. Dehydrated garlic flakes can be restored by soaking them in warm water, making them fresh in all seasons. Garlic powder can also be processed directly from dehydrated garlic flakes.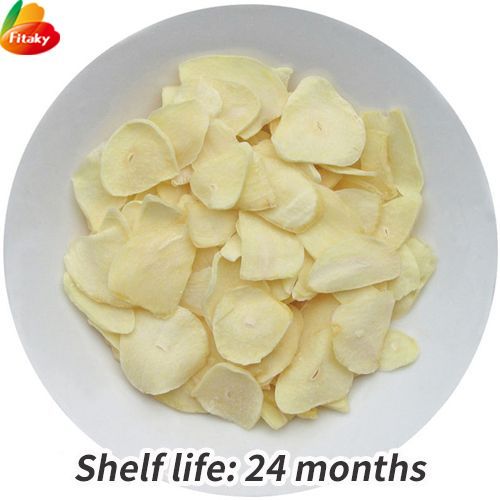 Fitakyfood.com provides various specifications of dehydrated garlic products, such as garlic powder, dehydrated garlic granules, crispy fried garlic, dehydrated garlic flakes, roasted diced garlic, etc.
We support customized packaging, specifications and OEM customization of dehydrated garlic products.
We can provide free samples of dehydrated garlic flakes for customers to do product testing.
Our dehydrated garlic products have passed ISO9001, ISO22000, BRC, KOSHER, HALAL, GAP, ORGANIC and other product certifications to ensure quality.
In addition, we have more than ten years of production and export experience in the dehydrated garlic products industry, and have our own logistics and transportation system to ensure fast delivery.
Welcome friends who are interested in dehydrated garlic flakes to consult at any time.
Packing of the dehydrated garlic flakes
1kg/bag, 2kg/bag,2.5kg/bag,10kg/bag
20kg/bag
Inner double PE bags and outside cartons
Load of the dehydrated garlic flakes
If packing in 20kg/carton, one 20ft container can load 14 mts, one 40ft container can load 22 mts