As the dehydrated garlic chips manufacture, we have bulk high quality dried garlic chips for sale. So far, our annual output of the dried garlic chips has reached 2000 tons, which has exported to Indonesia, Singapore, Malaysia, South Korea, Japan, Philippines, Australia, Brazil and other countries. Also, our dried garlic chips have been certified Halal, Kosher, GAP, BRC, ISO, etc., which can fully meet the food requirements of different groups of people.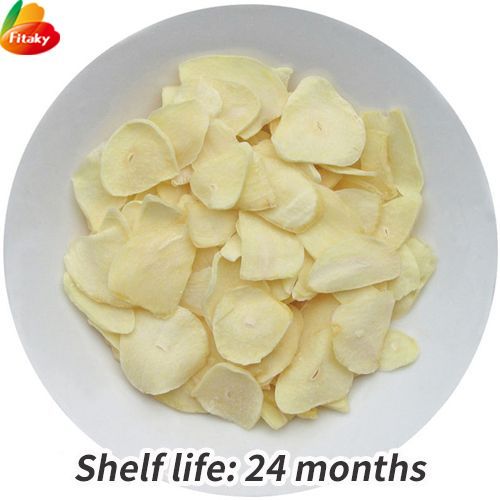 More information about high quality the dried garlic chips

Dried garlic chips can be used in soups, stews and breads and are gluten-free without any additives, preservatives and colourings.

Dried garlic chips save you the time of peeling, slicing and chopping, and are easier to store and use. Can add flavor to soups, sauces, stews.
Dried garlic chips can be used for hiking, backpacking and camping due to their quick rehydration and light weight.
Dried garlic chips are more spicy and richer than ordinary garlic, and contain vitamin C, selenium, protein, minerals, etc., which can enhance physical fitness.
At the same time, we not noly have bulk dried garlic chips, we still have high quality dehydrated garlic granules and garlic powder.
If you are interested in the hot sale dried garlic chips, and wanna know the dried garlic chips price, contact me freely.
Packing of the dried garlic chips
1kg/bag, 2kg/bag,2.5kg/bag,10kg/bag
20kg/bag
Inner double PE bags and outside cartons
Load of the dried garlic chips
If packing in 20kg/carton, one 20ft container can load 14 mts, one 40ft container can load 22 mts