Fresh coriander has a short growth cycle and is not easy to store. But the organic dehydrated vegetables just make up for the shortcomings of fresh cilantro. High quality dehydrated coriander can be eaten for a longer period of time, breaking the previous seasonal restrictions, making the use of coriander more free and convenient.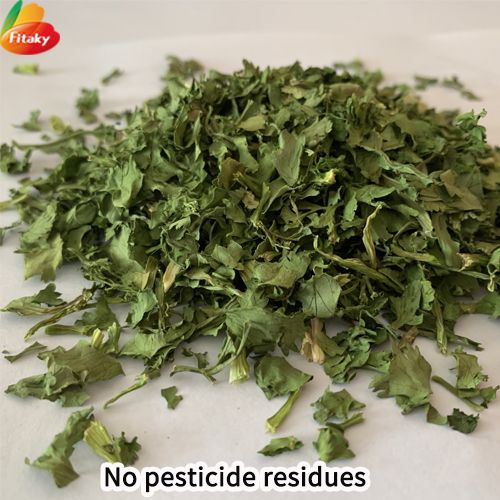 So far, Fitaky organic dehydrated coriander has been exported to Singapore, Malaysia, Vietnam, Korea, Japan and other countries, mainly used in meat products, puffed food, instant noodles, curry powder, pickled food, baked goods, sauces, soups, fish Production of various types of seasoning powder, catering industry, seasoning ketchup and other products.
More information about the dried coriander leaves
1. Support customization (Logo, size and packaging)
2. Provide free samples
3. No pesticide and heavy metal residues
4. Certified Halal, Organic, Kosher
5. Non-GMO, healthy and safe
6. Fast rehydration
7. 100% factory price

As the professional dried coriander leaves supplier, we have bulk dried coriander leaves for sale. If you are interested in the dried coriander leaves and wanna know the dried coriander leaves price, contact Polly freely.
Email: polly@machinehall.com
Whats app: +86 18538192032
Packing of the dried coriander leaves
25Kg or 30 Kg / 1 PP + PE bag or as required
Load of the dried coriander leaves
If packing in 20kg/carton, one 20ft container can load 12 mts, one 40ft container can load 20 mts.