Dried lemon slices, also called dehydrated lemon wheels are processed from fresh lemons, brown in color, with a strong lemon flavor. At the same time, we also offer freeze-dried lemon slices. They are processed slightly differently. Dehydrated lemon slices also cost less than freeze-dried lemon slices. The color of dried lemon slices is slightly darker than that of freeze-dried lemon slices. It can be used for soaking in water directly or with scented tea, or as a decoration for desserts.
We offer non-candied dehydrated lemon slices and candied dried lemon slices as your require.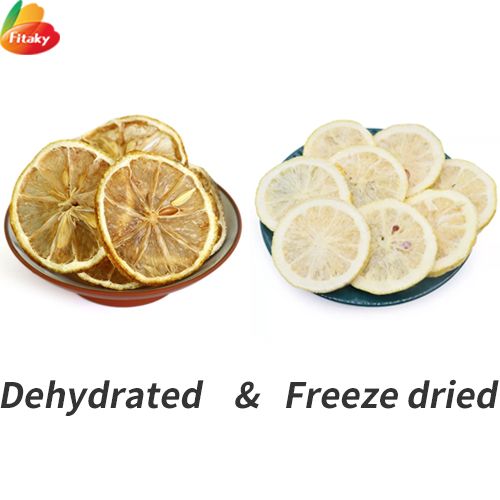 About the high quality dried lemon slices, we promise:
1. Provide free dehydrated lemon slices samples & custom products and packaging
2. Dehydrated lemon wheels have certified Halal, Organic, Brc, etc.
3. Export quality, quality assurance.
4. Non-GMO, 100% natural and healthy. No additives and preservatives.
5. 100% factory price, fast delivery, fast customs clearance
6. Perfect after-sales services
Fitaky, as the professional dehydrated lemon slices/wheels manufacturer and supplier, provides different varieties and different processing methods of dehydrated lemon slices. If you are interested in dehydrated lemon slices, you can contact us for details.