Dried egg granules are a kind of food made from dehydrated eggs, usually used as seasoning or food processing accessories, often found in instant food, such as instant noodle vegetable package, instant soup, instant ramen, etc. Dehydrated egg granules can be stored for a long time and are easy to carry and use, so they are widely used in camping, field adventures and food processing enterprises.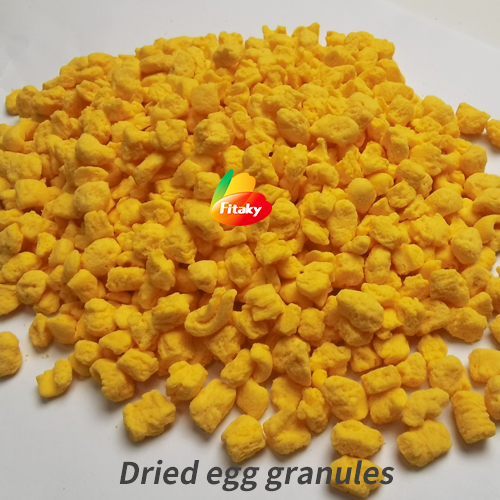 Dehydrated egg granules have the following advantages:
Convenient storage: Since the moisture of the dried eggs is removed, the volume is greatly reduced, which can save storage space.
Easy to carry: Dehydrated egg granules are suitable for carrying in outdoor adventures, camping, travel and other activities, and can be added to food at any time to increase nutrition and taste.
Convenient cooking: Dried egg granules can be directly added to hot water or ingredients, and cooked in various ways such as boiling, frying, roasting, and frying.
Nutritious: Although the moisture of dried egg granules is removed, its nutritional content remains basically the same. At the same time, the mouthfeel and aroma of dehydrated egg granules can also enhance the mouthfeel and deliciousness of food.
Fitakyfood.com provides the following services:
1. Provide free samples of dry egg granules for customers to test product quality.
2. Support customization and OEM services, including product packaging, labels, specifications, etc.
3. The product certification of dried egg granules is complete, including ISO9001, ISO22000, BRC, KOSHER, HALAL, GAP, etc., which can be provided to customers.
4. Factory direct supply, lowest price! The logistics and transportation system is mature, ensuring fast delivery!
Welcome friends who are interested in dried egg granules to consult at any time!