Dried potato slices are a kind of dehydrated potato flakes made by peeling, slicing, rinsing, dehydrating and other processes of fresh potatoes. Dried potato flakes are usually white or light yellow in color, dry and brittle. Fitakyfood.com not only provide dehydrated potato slices, but also dehydrated potato dices, potato powder and so on.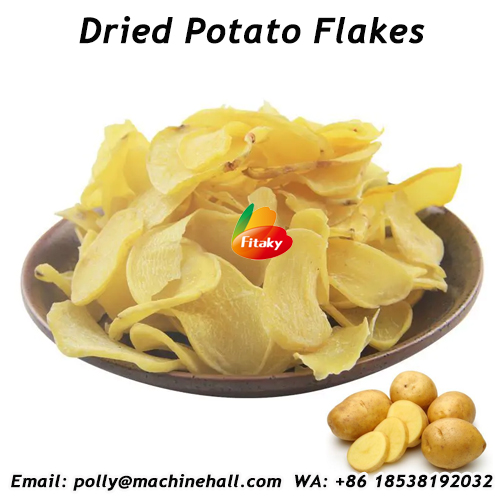 The production process of dried potato slices usually includes the following steps: first, fresh potatoes are peeled and washed; then the potatoes are cut into slices, and then rinsed and dehydrated; finally, the dehydrated potato flakes are dried to make dehydrated potato chips .
Fitakyfood.com provides customers with the following services:
1. Provide free potato slices samples and customized, OEM services.
2. Dehydrated potato slices not only undergo multiple quality inspections during the production process, but also provide third-party quality inspection services to ensure that the products meet customer needs.
3. fitakyfood.com not only has rich experience in the field of dehydrated vegetable production and processing, but also has a mature logistics and transportation system to ensure fast delivery!
Dried potato slices are widely used in food processing and cooking because of their easy storage, transportation and processing, such as:
Potato chips: Dried potato slices are the main raw material for making potato chips. Potato chips of various flavors, such as salt, yogurt, spicy, tomato, etc., are made using dried potato slices as raw materials.
Hash browns: Hash browns are a common breakfast food. Dehydrated potato slices are mashed, mixed with other raw materials, made into cakes, and then fried to make hash browns.
Kimchi: In places like Korea and Japan, dried potato flakes are used to make kimchi. Dehydrated potato slices are marinated with other vegetables to make pickles with a sweet and sour taste.
Baked Potato Chips: Thinly sliced dehydrated potatoes are baked in the oven for crispy baked potato chips, a popular snack.
Welcome friends who are interested in dehydrated potato slices to consult at any time!