Dried wakame seaweed is a kind of seaweed, dried wakame is relatively slender, similar to silk in shape, soft in texture, usually dark green or dark brown. Dried wakame is not only famous in China, but also loved by many seaweed food lovers in the world.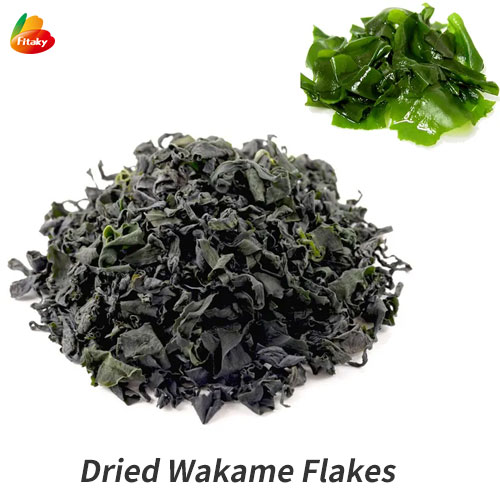 How to eat: Dried wakame flakes need to be soaked before eating, put it in warm water and wait for a while until it becomes soft. The output ratio of dried wakame and rehydrated wakame can reach 1:10.
Currently, as a representative of healthy and organic food, dried wakame is widely used in vegetarian restaurants, health food markets, and Japanese cuisine. It can be used to make salads, soups, sushi, wraps, etc.
Information about the our dried wakame seaweed:
1. Fitakyfood.com provides free wakame flake samples to our customers for the quality test.
2. Factory support customized packaging, labels and specifications of dried wakame, etc., with the aim of customer satisfaction.
3. Factory direct supply, the most competitive price, fast delivery guaranteed.
4. The dried wakame seaweeds have certified ISO9001, HACCP, HALAL, BRC, FDA, ORGANIC, etc.
Nutritional value: Dried wakame is rich in protein, fiber, vitamins and minerals, especially iodine, calcium and iron. It is also a low-calorie food, suitable for all kinds of people.