Ginger garlic powder is a compound seasoning powder processed from garlic powder and ginger powder as the main raw materials. Ginger garlic powder has both the spicy taste of ginger and strong garlic flavor, which is more convenient and quicker to use than a single spice. As a professional spice processing factory, Fitakyfood can not only customize the taste of seasonings according to customers' needs, but also customize the packaging and labels of products.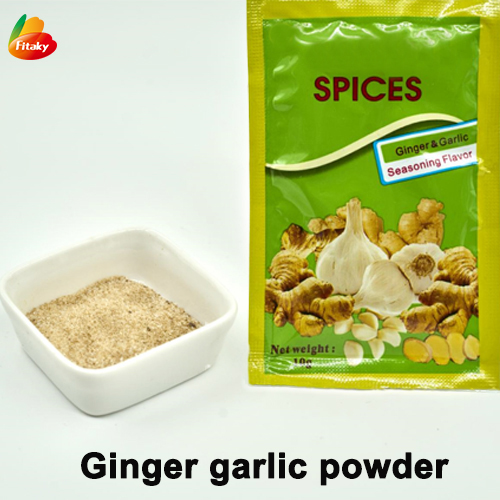 Fitakyfood has customized compound seasonings for instant noodles, potato chips, fried chicken, barbecue, snacks, etc. for more than 30 countries around the world.
More about Fitakyfood Ginger Garlic Powder
1. Fitakyfood support provides free samples of ginger garlic powder for customers to check the quality of the product.
2. The factory has a professional research team that can customize ginger and garlic powder and other compound seasonings according to customer requirements, and the packaging and labels of the products also support customization.
3. Ginger garlic powder has passed ISO9001, HACCP, HALAL, BRC, FDA, etc.
4. The company has its own logistics and transportation system to ensure fast delivery.
As a professional spice supplier and manufacturer, we provide Ginger Garlic Powder, Ginger Garlic Paste and seasoning powders of various flavors, sauces, etc. Welcome to consult at any time!