Jalapeno pepper powder is made by grinding the green dried jalapeno peppers into a fine powder which are known for their moderate to hot level of spiciness. Jalapeno pepper powder is widely used as a seasoning and flavoring agent in various cuisines.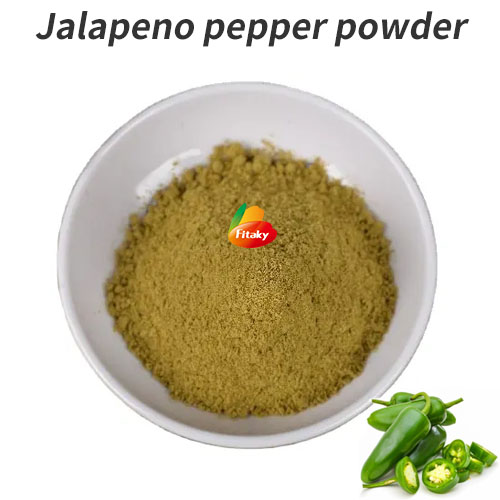 It adds a distinct, spicy kick to dishes and is often used in salsas, dips, marinades, rubs, and sauces. It can also be sprinkled over foods like pizzas, tacos, nachos, and grilled meats to enhance their flavor.
In addition to its culinary uses, jalapeno pepper powder is also popular in the production of spicy snacks, such as flavored chips, popcorn, and nuts.
Fitakyfood.com can provide customers with the following services:
1. For customers who are engaged in food production, the manufacturer can provide customers with free samples of jalapeno pepper powder for customers to test product quality.
2. For distribution customers, manufacturers can provide customers with customized services, such as product packaging, labels, specifications, etc., which can save customers a lot of cost.
3. Fitakyfood's jalapeno pepper powder has passed ISO9001, ISO22000, BRC, KOSHER, HALAL, GAP, Organic and other food certifications to ensure product quality.
4. We have more than ten years of production and sales experience in the field of spice powder, and have our own mature logistics and transportation system to ensure fast delivery of products!
Except for the jalapeno pepper powder, we still provide other spice powder, such as red chili powder, black pepper powder, star anise powder, etc. welcome to consult at any time!