Red onion powder, light red in color. Not only the onion flavor is pure and strong, but also the powder quality of onion powder is soaring and fine between 80-100 mesh, which is a perfect substitute for fresh onion. At present, most households and restaurants often use onion powder instead of fresh onions to improve the taste of dishes and avoid irritation to eyes and noses during the processing of fresh onions. The red onion powder can be used in seasoning additives and can also be made into health food.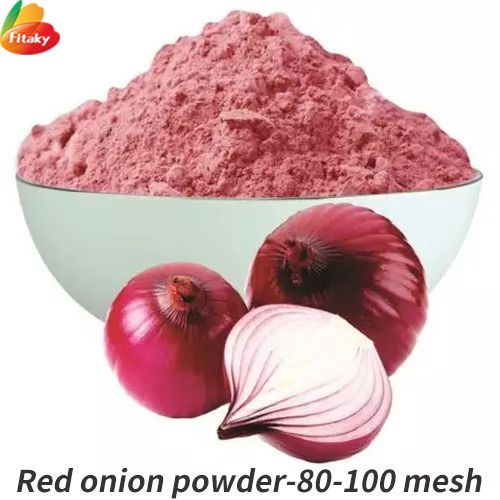 Red onion powder has a fine texture and is suitable for frying, cooking, or as a condiment. Generally, the red onion powder has the effect of eliminating fishy smell when cooking, so the pure red onion powder can be used more when cooking meat or meat-based dishes. At the same time, the high quality onion powder has low moisture content, and the shelf life can be as long as two years, which can meet the needs of the whole year. Therefore, the pure onion powder is of great significance to adjust market demand and solve off-season supply.
Fitakyfood.com, as the professional onion powder supplier, not only red onion powder is produced, but also yellow onion powder, white onion powder, dehydrated onion flakes, etc., with various specifications and sufficient supply. Welcome to consult at any time.