Roasted onion powder is a condiment made from fresh onions that are roasted and ground. Roasted onion powder has a stronger onion flavor and aroma than onion powder, and is one of the seasonings commonly used in many dishes. It can be used as a seasoning for meat, poultry, seafood, and vegetables, adding depth and complexity of flavor. Onion powder, on the other hand, can be used in a wide variety of cooking, whether it's stir-fries, roasts, soups, sauces or salads.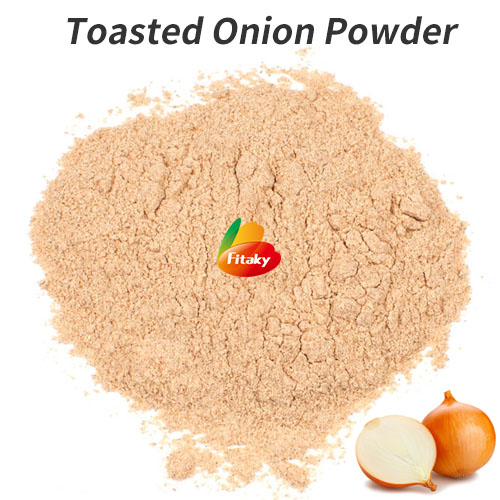 As a professional manufacturer of dehydrated onion products, Fitakyfood.com not only provides various specifications and grades of roasted onion powder, but also provides white onion powder, yellow onion powder, red onion powder, dehydrated onion slices, dehydrated onion shreds, dehydrated onion dices, etc.
Fitakyfood.com provides the following services:
① The manufacturer provides free samples of roasted onion powder to customers, and there is no minimum order quantity for customers who buy products for the first time.
② The manufacturer provides on-demand customized services, and can customize the specifications, grades, packaging, labels, etc. of roasted onion powder according to the needs of customers.
③ Roasted onion powder has passed ISO9001, HACCP, HALAL, BRC, FDA, ORGANIC, KOSHER, etc.
③ The factory of fitakyfood.com is located in the production base of fresh onions, with rich raw materials and a monthly output of 500 tons, which can ensure long-term stable supply.
④ We have more than ten years of experience in the field of dehydrated food processing, and have a mature logistics and transportation system to ensure fast delivery.
If you are interested in the toasted onion powder, contact Polly freely.