The raw materials of mixed vegetable chips are composed of various fresh fruits and vegetables, such as mushrooms, dragon fruit, green radish, beets, potatoes, bananas, carrots, okra, red dates, kiwi fruit, etc. Vegetable crisps are rich in variety and balanced in nutrition. Compared with ordinary fried vegetable chips, vacuum fried vegetable chips are not easy to burn and have better color retention. At the same time, VF vegetable chips have lower oil content, crisp taste, and low damage rate, which can better meet people's needs.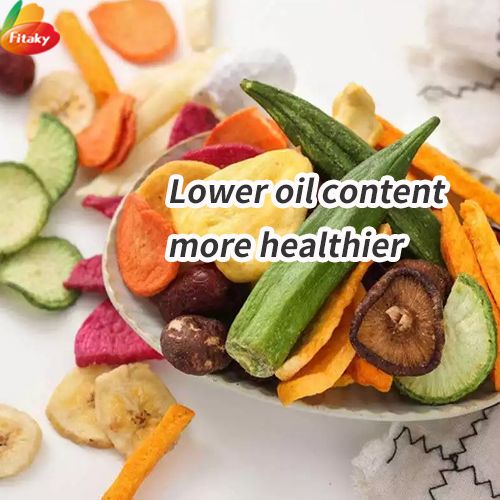 Benefits of the vacuum fried mixed vegetable chips:
1. Vegetable crisps avoid high temperature damage to food nutrients and quality, and are rich in nutrition.
2. Vegetable chips avoid the toxic and harmful substances generated by high-temperature frying, and are healthier and safer.
3. Vacuum frying technology has puffing effect on food, and the taste is more crispy.
4. Vacuum fried products have low moisture content and long shelf life.
5. Fitakyfood.com has been in the field of vacuum fried fruit and vegetable chips for more than ten years, and has rich experience in production and import and export. At the same time, for customers who are interested in our products, we can also provide free samples for customers to conduct product quality testing.
About the vf vegetable chips, the variety is abundant and the supply is sufficient and stable, such as mushroom crisps, okra crisps, beet root crisps, kiwi crisps, etc. If you need, we support customized vegetable types and OEM sales.
Friends who are interested in vacuum-fried fruit and vegetable chips are welcome to consult at any time.
Packing of the vf vegetable chips
1kg/bag, 2kg/bag, 2.5kg/bag; 5kg/carton
Load of the vf vegetable chips
If packing in 20kg/carton, one 20ft container can load 3.5 mts, one 40ft container can load 6.5 mts