The raw material of our vacuum fried fruit and vegetable crisp is composed of various fresh fruits and vegetables, such as mushrooms, dragon fruit, green radish, beets, potatoes, bananas, carrots, okra, red dates, kiwi fruit, etc. Variety and nutritious.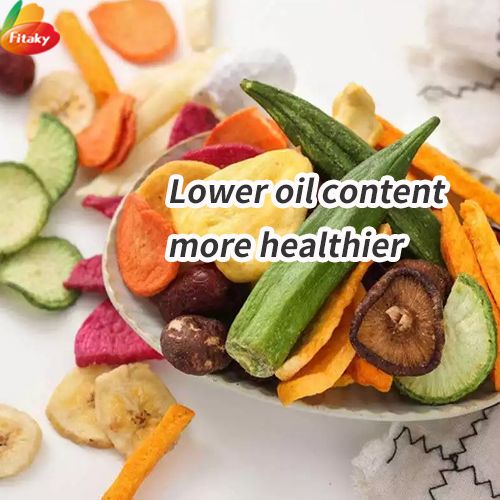 Compared with fried foods, our vacuum-fried mixed fruit and vegetable crisps have lower oil content, crisp taste and low breakage rate, which can better meet the needs of customers.
Benefits of the high quality vacuum fried mixed vegetable crisps
1. Non-GMO
2. ISO,HACCP,QS,BRC,HALAL,Kosher
3. Crispy and nutritious
4. Wide variety and customization available
5. Lower oil content, healthier
6. Sufficient supply, global availability
7. Free sample
As the vacuum fried fruit and vegetable crisps manufacturer, we have more than 80 vacuum fried fruit and vegetables for sale. The variety is abundant and the supply is sufficient and stable, such as mushroom crisps, okra crisps, beet root crisps, kiwi crisps, etc.
Friends who are interested in vacuum-fried fruit and vegetable crisps are welcome to consult at any time.
Packing of the mixed vegetable crisps
1kg/bag, 2kg/bag, 2.5kg/bag; 5kg/carton
Load of the mixed vegetable crisps
If packing in 20kg/carton, one 20ft container can load 3.5 mts, one 40ft container can load 6.5 mts