Organic beet is a major source of sugar other than tropical sugar cane. At the same time, beets are made into a variety of different foods.
As an experienced food manufacturer in China, our hot sale beet products are also rich and diverse, such as beetroot chips, dehydrated beet granules, beetroot powder, etc., to meet the product needs of different customers.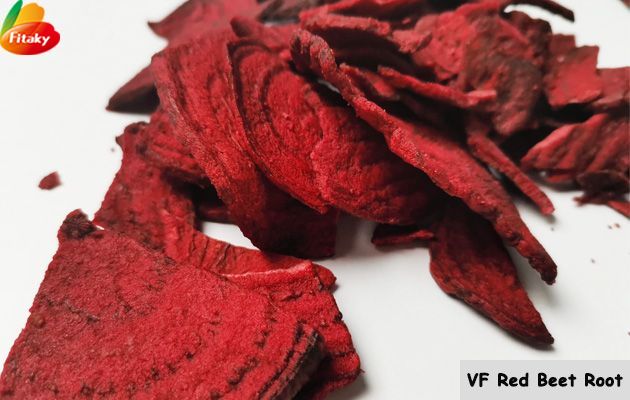 Benefits of the vacuum fried beet chips
1. 100% Vegetable Chips. Not fried, 20% less oil than regular chips
2. Low fat, high fiber, vitamins.
3. All natural with no added sugar, artificial colors, flavors or preservatives
4. Vegan friendly and gluten free
5. Preserves the natural color, texture and nutritional content of fruits/vegetables
6. Good appearance integrity and low breakage rate.
Our vacuum fried products mainlyhave more than 60 kinds including crispy mushrooms, crispy bananas, crispy okra, crispy beets and crisps, crispy carrots and other products. The supply is sufficient and stable.
Customers who are interested in vacuum fried fruit and vegetable crisps are welcome to consult at any time.
Packing of the beetroot chips
Small package - stand bag, stand bag with zipper, pouches.
Small package Q'ty - 30g, 50g, 60g
Bulk Package - Big aluminium bag
Bulk package Q'ty - 800g, 1kg, 2kg, 2.5kg
Load of the beetroot chips
If packing in 20kg/carton, one 20ft container can load 3 mts, one 40ft container can load 5 mts