White dried button mushrooms has firm, nutritious flesh and a woody smell. The dehydrated button mushrooms can be directly used for cooking after rehydration, and can also be used as a food ingredient in various food processing industries.
We not only have dehydrated button mushrooms but also freeze-dried button mushrooms!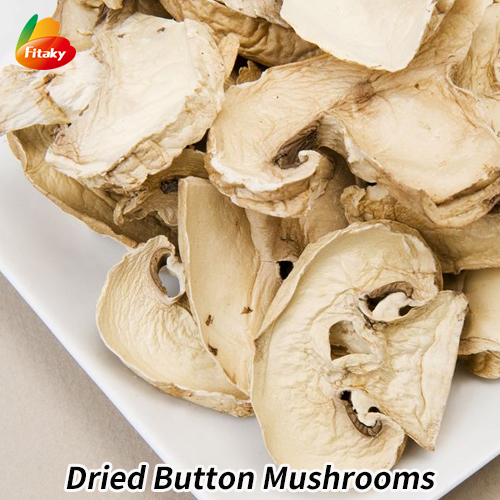 Fitaky's factory can not only provide various types of dehydrated mushrooms, but also provide customized services, such as the packaging, specifications and labels of dehydrated mushrooms can be customized according to customer needs.
Here's what you need to know about the white dried champin mushrooms:
1. The manufacturer provides free dehydrated button mushroom samples for product testing
2. The factory provides customized and OEM services, such as packaging, specifications, private labels, etc. of dried button mushrooms.
3. The dried button mushrooms have certified ISO9001, HACCP, HALAL, BRC, FDA, Organic, etc.
4. Fitakyfood.com dried button mushroom is sterilized by steam, without irradiation and fumigation, which is healthier and safer!
5. Factory direct supply, no middlemen to make the difference, the best price!
6. The logistics system is perfect to ensure safe transportation and fast delivery.
Fitaky has more than ten years of production and sales experience in the field of dehydrated vegetables, providing various types of dehydrated vegetables. If you are also interested in other kinds of dehydrated vegetables, please feel free to consult!