Organic mint powder, also called mint leaf powder, peppermint powder, dark green in color. Powdery texture, 80-100 mesh. Peppermint powder has a refreshing and cooling effect, and can be used in tea, beverages, jelly, syrup, candy and ice cream, protein powder and baked goods, etc., to add mint flavor to food.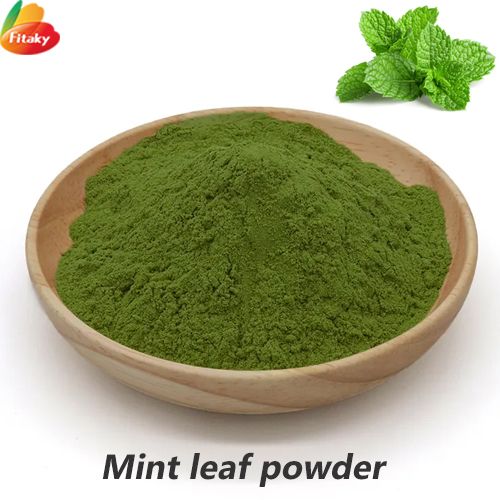 Peppermint powder is not only widely used in the food and beverage industry, it is also used in the manufacture of salves and even it has entered a niche in the cosmetics industry where it is used to form face washes, masks, serums. Peppermint powder is also used in aromatherapy to elevate mood and soothe headaches.
As the mint leaf powder manufacturer and supplier, we can do the following services for you:
Provide free mint powder for your product test

Customize the specifications and packaging of mint powder according to your needs

The mint leaf powder has certified Brc, Organic, ISO9001, HACCP, HALAL, FDA, Kosher, etc.

We have our own logistics transportation system to ensure fast delivery

100% pure, no food additives and preservatives
Besides mint powder, we also supply mushroom powder, strawberry powder, kale powder, barley grass powder, etc. Welcome friends who are interested in fruit and vegetable powder to consult at any time.