Organic vegetable powder is a product made by processing, drying and grinding fresh vegetables into fine powder. This innovative food format retains the vegetable's natural nutrients while also having a longer shelf life. Vegetable powder is free of preservatives and additives and is a natural food choice.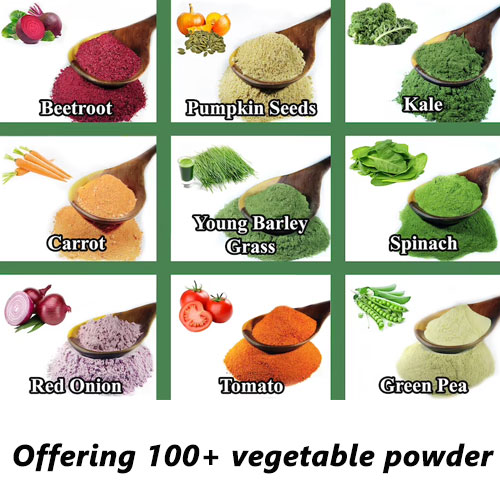 As a concentrated form of vegetables, vegetable powders retain many of their beneficial nutrients, including vitamins, minerals, fiber, and antioxidants. Different types of vegetable powders provide a variety of different nutritional benefits, such as mushroom powder, kale powder, broccoli powder, cabbage powder, beet powder, spinach powder, tomato powder, purple sweet potato powder, etc.
For super food retailers, our factory supports customized mixed mushroom powder, mixed vegetable powder, mixed vegetable powder, etc. Customize formulations, labels, packaging and more.
✔ Non-GMO
✔No radiation
✔ Allergen Free
✔ No additives
Feel free to ask for more information about the different types of pure vegetable powders!