Fitaky offers bulk high quality sweet paprika powder ( red bell pepper powder or red sweet pepper powder ), made from sweet and bright dried paprika yanmoer, mild in flavor and bright in color, ASTA: 40-220. Premium Gourmet Spanish Paprika Powder.
What's more, we support customization of compound seasonings in various flavors according to customer needs.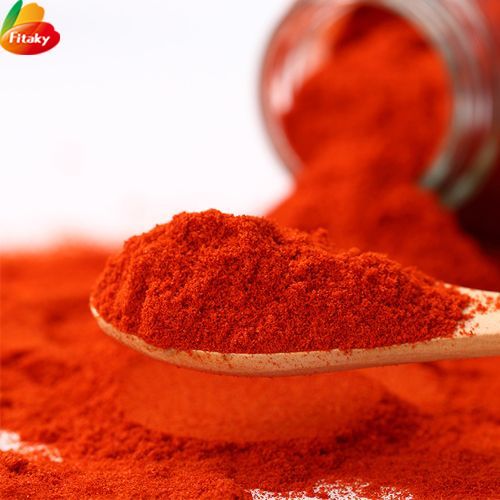 Sweet paprika powder can be used both to flavor a variety of dishes and to make many different sauces such as BBQ sauce, chipotle sauce, tomato sauce. At the same time, red sweet pepper powder can also be used to bake and decorate various foods, which can not only increase the taste, but also increase its visual effect.
More information about the red sweet paprika powder

1. Provide free sweet paprika powder samples
2. The sweet paprika powder has certified Halal Kosher Organic, Brc, etc.
3. The red bell pepper powder is non-GMO, no food additives and preservatives
4. Support customized specifications, packaging, labels, etc. of paprika.
5. 100% factory price & fast delivery
As the professional spices supplier, we have bulk spices & herbs for sale, such as sweet pepper powder and dried paprika flakes , cinnamon powder, turmeric powder, black pepper powder, etc.
Friends who are interested in spices & herbs are welcome to consult at any time.
Packing of the sweet paprika powder
1. Bulk packing: Paper bag, 25kg/bag
2. 5lb/Vacuum PE bag, 6 bags/carton
3. Accept OEM