Juice powder is a powdery substance obtained by processing fresh fruits and freeze-drying. Fruit juice powder is fine and water-soluble, suitable for various food processing.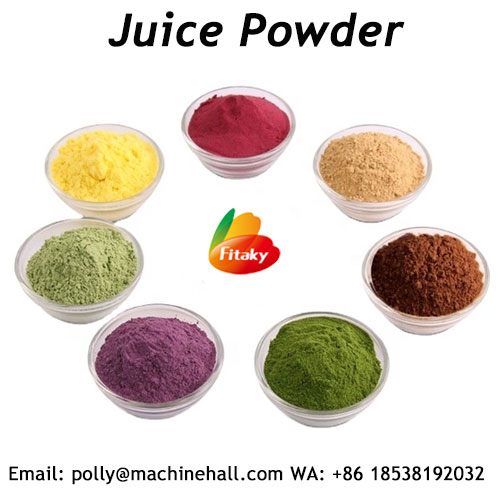 Fitakyfood.com offers more than 80 types of juice powder, such as strawberry powder, apple powder, banana powder, dragon fruit powder, mango powder, pineapple powder, etc. The factory supports customized specifications, packaging, labels, etc. of juice powder.
Juice powder has a wide range of uses as a convenient, nutritious and versatile food. Here are some common juice powder uses:
Drinking Juice: The most common use is to dissolve juice powder in water to make delicious juice drinks.
Seasoning: Juice powder can be used to flavor a variety of foods, such as yogurt, ice cream, oatmeal, and more.
Culinary Ideas: Add fruit juice powder to cooking to give dishes a unique fruity taste. For example, adding fruit juice powder to pastries, cakes, and pastries can add texture and color to desserts.
Mixed Drinks: In addition to water, you can also add juice powder to other beverages such as milkshakes, smoothies, teas, and more.
Nutritional Supplement: Since juice powder retains the nutritional content of the fruit, it can be used as a convenient nutritional supplement.
Outdoor activities: For those who love outdoor sports, fruit juice powder is a light and easy-to-carry fruit substitute.
Making Sauces and Dressings: Combining fruit juice powder with other seasonings can create sauces and seasonings of various flavors for seasoning meats, seafood, vegetables, and more in cooking.
Welcome to consult and try at any time!