Fitaky dehydrated cucumber slices with 24 months shelf life, not only nutritious, but also easy to carry and use. Besides, we also have bulk freeze dried cucumber slices for sale.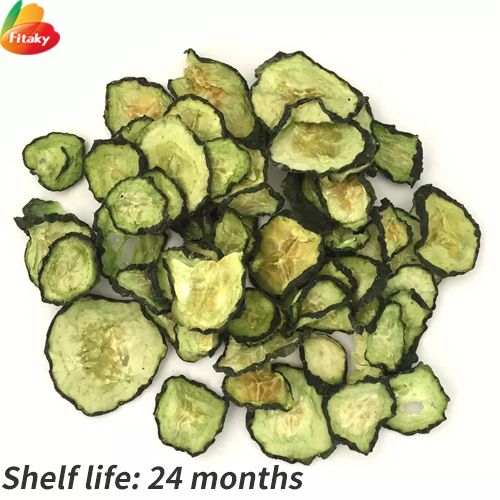 More information about organic dehydrated cucumber slices
1. Factory provide free dried cucumber flakes samples and customized services
2. Healthy and safe, non-GMO, no food additives
3. The dehydrated cucumbers have certified Organic, Halal, Kosher, FDA and more
4. The cucumber flakes have been tested by the laboratory and has no pesticide and heavy metal residues.
5. Dehydrated cucumber slices have a low moisture content and a shelf life of up to two years
6. Professional dehydrated vegetables manufacturer, providing 80+ dried vegetables
So far, we not only have high quality dehydrated cucumber slices, but also bulk organic dehydrated mixed vegetables, high quality dehydrated mushrooms, organic dehydrated chives, and more.
Welcome to consult anytime.
Packing of the dehydrated cucumber slices
Small package: 1kg/Foil bag,2kg/Foil bag, 3kg/Foil bag, etc.
Big package: 20kg/carton, Inner double PE bags and outsode caron
As customer's requirement
Load of the dehydrated cucumber slices
If packing in 20kg/carton, one 20ft container can load 13 mts, one 40ft container can load 21mts